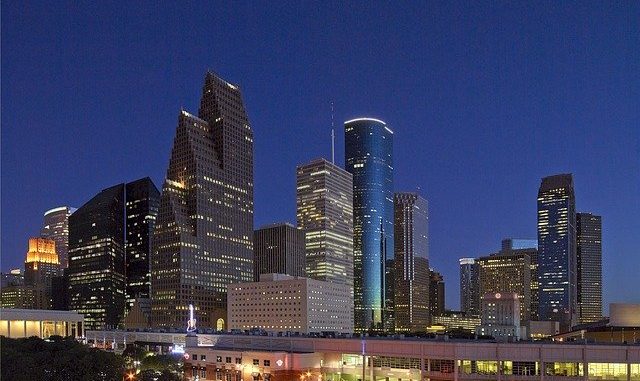 Saturday, yours truly read a blurb in the news that the first ever running of bulls type event was coming to Houston. Now, like many, I've seen television shows about the running of the bulls in Pamplona Spain and elsewhere in Europe and Latin America. I happen even to know a (former) real live bullfighter, and took some trips down to Mexico way back when to go see him fight. Still, I haven't been on a trip in a while, and the whole idea of going to see a bull run sounded like a lot of fun, so it was time to gas up the car and take a little road trip to see some excitement.
Now, I found out about all this at the last minute. I had made no plans, and one of the things that went through my mind was asking whether I myself would take the plunge and decide to run with the bulls. I still do a little running, and am not entirely out of shape. However, I certainly am not in the form I once was, and quickly decided that discretion was the better form of valor. No, I would be a spectator. Maybe next time. Besides, I discovered that taking the plunge and going on a run or two would bump up the price tag of the day's festivities considerably — as in $20 a pop for every time you wanted to go on a run.
That decision made, I headed off to the Royal Purple Raceway, a football stadium and dirt track raceway on the east side of our fair metropolis. I don't head out to the east side of Harris / Chambers county too often. I discovered on my way there that TXDOT had cut off several lanes of the Katy Freeway, seemingly for road lane stripe repainting. While I managed to suffer through that government-created morass, I settled on trying to get to the raceway via the recently opened eastern section of the Grand Parkway. However, I learned once I got out there that in order to use the GP, you had to have electronic stickers, as no cash or deferred payments were accepted. Hence, I had to turn around to get onto SH 146, and make my way through Baytown to get to the grounds.
Despite the government's efforts at ruining my day, I made it to the Royal Purple Raceway circa 12:30pm. I noticed on the drive into the grounds that there were 3-4 people standing at the edge of the grounds, waving signs decrying animal cruelty. I have some sympathy towards at least listening to the arguments of animal-welfare activists, but somehow it seems that watching a group of grown male cattle running around in circles and chasing after a bunch of grown adults who are crazy enough to get in their way does not amount to much in terms of animal cruelty. It was time for me to head on in.
I managed to get to the raceway in time to catch three planned rounds of bull runs. The event drew a crowd I estimated at roughly 4,000 or so, and many attendees participated in more than one round of bull runs. A typical bull run drew perhaps 200 or so participants. The organizers held the bulls in a pen on the far end of the raceway track, then released 20 bulls for each run (there were 36 bulls released for the last run). The bulls were released in two waves of ten bulls each. The bulls ran in a clockwise direction around the bend of the raceway track, before encountering the first of the bull run participants. They then ran down the track straight in front of the spectators, before circling around the left side of the raceway. The entire bull run was roughly 330 yards, with a 200-yard stretch being run with bull runners. There were a handful of injuries (isn't that the real reason why we go to see such events?), but nothing that could be considered life-threatening. The bull runs proved to be so popular that the event organizers added another bull run at 2:15pm, after the last scheduled bull run.
The day's festivities culminated in a Tomato Royale, a food fight where participants got the opportunity to run towards a large pool of 30,000 pounds of softened-up tomatoes and throw them at each other. In order to enter the Tomato Royale, you had to wear a pair of glasses to protect your eyes. Otherwise, the event drew a large crowd, with some 1,000 people eventually lining up on either side of the raceway to run towards the pool of tomatoes, which were lying in the middle of the raceway field. However, the Royale seemed to be a little anticlimactic, as it quickly proved to be the case that it was a kind of first-come, first-served event. The people at the front of the crowd got to the tomato field first and got to do all the tomato tossing, while roughly half the crowd at the back ran towards the tomatoes, only to have no chance of even getting at any tomatoes to throw. Hence, they were reduced to watching the lucky ones get in on all the action. I agreed with a fellow spectator that it would have been better if event organizers had scattered the tomatoes around in two or more areas around the raceway infield so that participants would have a better chance of getting in on the fun.
In all, there was a festive atmosphere to the event, something that made people happy. It was rather amusing after having gone to the event reading the comments to the Houston Chronicle aftermath story, with the predictable grousing of questioning the intelligence of event goers, sniping about insurance and lawyers because of the alleged concerns of people who volunteered to participate in getting hurt, as well as some social snobbery about the bull run being a knock-off of the real thing.
A rising tide of participant driven adventure entertainment?
The culture changes, and as it does, so do people's tastes and appetites for various pastimes and entertainment. The Houston Chronicle story on the aftermath of the bull run noted that 12,000 people last year participated in a 12 mile long Tough Mudder challenge event held at the Royal Purple Raceway, an obstacle course event that included having to swim through ice filled containers. While at Saturday's event, I also picked up a pair of promotional cards for two events to be held in the near future: a Heroes and Villains Adventure Run, to be held Saturday March 1, 2014 at Sam Houston Raceway Park; and a second promotional card for an entire season of Houston Roller Derby, starting in February 2014 and running through August, to be held at the Bayou Music Center in downtown Houston. Meanwhile, a twenty something girl I know works out regularly at the Gracie Barra Jiu Jitsu martial arts school on Westheimer, while there has been a rise in popularity over the past few years of mixed martial arts fighting events on television. Thousands play in paint-ball type events every year.
So, what to make about all this? It's hard to make generalizations, but there is clearly a market to be catered to, consisting of adventure-type, thrill-seeking enthusiasts who are looking for adrenaline-inducing activities that challenge individual safety boundaries — but not too much. Moreover, these are activities and events where the ordinary everyday Joe and Jane urban adventurer can take part, and are not exclusive to practiced elite participants. Running marathons or doing triathlons is certainly challenging, but running cross-country races over mud courses and having to jump over obstacles and barriers make running a lot more fun for many. Is there something deeper that these events are touching? Hard to tell, and it's hard to tell what it means, or if it means anything at all.