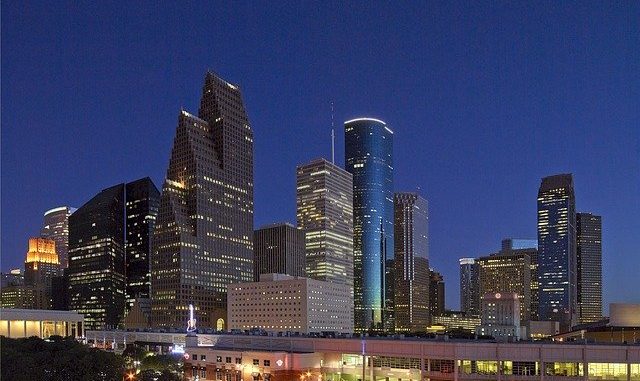 Two weeks ago, the story broke in the Houston Chronicle that Houston First, a local agency chartered by the City of Houston to run the convention facilities in downtown Houston — the George R. Brown convention center as well as the Hilton Americas hotel — is pushing a proposal to spend at least $80 million on improvements in a 17 block area of downtown Houston in and around what is sometimes referred to as the Theater District. The joke being told around the Council table was that $80 million would barely get one city block done, much less the entire project. This proposal would be in addition to an already existing project being sponsored by First Houston, the construction of a second convention center hotel, next to the George R. Brown convention center.
The proposal by Houston First to Houston City Council brought to mind the idea of writing a long diatribe arguing against Houston joining the taxpayer funded arms race of cities around the country spending billions of local tax dollars in a fiercely competitive political battle to try to attract conventions to their cities. I started writing the post, but it grew lengthy, and I've shelved publishing it for now. However, the proposal got me to thinking of putting together a list of projects, both executed and abandoned, that have occurred under Mayor Annise Parker's reign.
The City of Houston police and municipal courthouse complex
First on the list is the now (seemingly) abandoned plan, pushed by Parker and her minions in late 2014 and early 2015, to spend $250 million $600 million $800 million $1.2 billion(!) on a total teardown and rebuild (or move) of the City of Houston police headquarters, prison, and municipal courthouse complex. One plan was to buy one of Exxon Mobil's downtown properties, and move the City municipal courthouses, police department, and possibly the fire department there. One of the distressing pieces of news about this was the Houston Chronicle writing that the existing facilities were built between 1950 and 1980, making it a mere 35-65 years since they were built.
What is depressing to think about is that the political classes and pressure groups down at City Hall were wanting to revamp an entire complex of buildings that were only 1-2 generations old. In comparison, when I went to Britain years ago, I saw buildings at Oxford University that have been in use for centuries. The sticker shock over the price tag seems for now to have put this proposal on ice.
The BBVA Houston Dynamo Soccer Stadium
The BBVA Compass stadium, located on the east side of downtown Houston, had its groundbreaking during Mayor Parker's watch, albeit some of the early political wheeling and dealing occurred during her predecessor Bill White's term in office.
Comparatively, the Dynamo stadium was a fairly light hit on taxpayers as far as palaces to the sports gods go. There were several sets of fingers in this deal, including Harris County, but also BBVA Compass Bank put up money for the 22,000-seat stadium. The City of Houston taxpayers were hit for some $15 million, mostly for buying up the land for the deal. The stadium is up and running, the fourth taxpayer funded palace to the sports gods built in Houston since the start of the 21st century.
The Memorial Park revamp project
The year of 2011 saw an unforgettable statewide drought strike Texas. I've lived in Texas for most of my life, and I've never seen anything come remotely close to the devastating effects of that drought. Burn bans were enacted across Texas. Forest fires consumed thousands of acres of trees across the state, and farmers and ranchers were forced to sell off cattle and abandon crop plantings. Water rationing was enacted in many places.
Here in Houston, there were lots of broken water and sewer lines that year, causing the loss of an estimated 18 billion gallons of water according to a Houston Chronicle examination of city records. The lack of rain also caused thousands of trees in Memorial Park to die. To this day, a swath of forest about the park is still gone, impossible for park joggers and other visitors to miss.
So, what to do about this, if anything? My own preference would have been to say that Mother Nature has spoken, and to leave the park alone. But this is politics, and such nostrums are absolutely unacceptable when the City's premier jewel of a park that nobody can keep their hands off is on the table. Up came a master plan, approved unanimously by Houston City Council in April 2015, to spend upwards of $300 million on Memorial Park. Tons of new trees and fire suppression facilities are to be built (what is the Houston Fire Department for, right?), baseball and softball fields are to be moved around, and yet more "land bridges" that don't need to be built will be built anyway.
The good news, for now, is that the plan calls for much of the money to come from private donors. The bad news is that since the City of Houston doesn't have any money, the bulk of taxpayer monies are supposed to come from the Uptown/Galleria area tax increment reinvestment zone (TIRZ), money that may or may not materialize.
One question that the Memorial Park deal raises is — what about the treatment of the other 40-odd parks operated by the City of Houston? For example, has anyone done anything for Moody Park lately? I'm just asking…
METRO rail and the Uptown / Galleria bus rapid transit project
METRO and the agency's rail schemes are not entirely a City of Houston issue, albeit the City does have its fingers in METRO via the fact that the Mayor of the Houston appoints five members to METRO's board. The main — ahem — accomplishment of METRO under Mayor Parker's appointed chairman Gilbert Garcia is construction of three light rail lines, costing $2.2 billion, whose early boarding numbers indicate a cost to taxpayers of close to $50 per boarding. All three of the new rail lines branch out from downtown Houston and run north, east, and southeast of the central business district.
Not content with that achievement, the City of Houston, the Uptown Galleria TIRZ, and METRO have partnered up to start a project to spend what is likely to be somewhere around $300 million to build a dedicated bus lane along Post Oak Boulevard, along a pathway where only a few hundred transit patrons a day wait in mostly empty bus shelters for the existing buses to pick them up and drop them off.
A roundup and final comment on taxpayer spending by Annise Parker
By no means is this list meant to be the final say on everything Mayor Annise Parker has overseen spending-wise during her six years in office. However, what strikes me, and indeed should strike the casual reader, are the immense sums of taxpayer money and attention that have been showered on downtown Houston and Houston's central business district during Annise Parker's time in office. In all fairness to Parker, previous City of Houston mayors also showered plenty of taxpayer largesse on downtown Houston, but Parker is clearly continuing the pattern.
That so much taxpayer largesse has been spent on downtown Houston (and I should add other areas inside Houston's 610 Loop near downtown) should be brought up as an issue, not only in the hotly contested mayor's race, but also in the various district council races for the upcoming November 2015 City of Houston election. What benefit has there been, if any at all, to all this taxpayer spending on downtown Houston and the nearby central city? Has anyone done an analysis of how much money gets spent on downtown, versus how much taxpayer money gets spent on the various neighborhoods of Houston? Why has it been so hard to get roads in neighborhoods repaved? I'm sure the residents of southwest Houston and of Memorial TIRZ 17 who've been the victims of flooding would be very interested in how much money gets transferred from them to downtown. Asking such questions will also add fuel to the fire over the use of TIRZ's and localized governance.
I would mount an argument that much of the largesse that has been thrown at downtown Houston, outside of whatever was offered up for the Discovery Green park, has been of little or no value to city residents. Only time will tell if others will agree with me, and if this pattern will eventually be reversed.